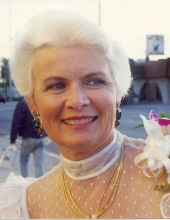 Obituary for Nancy Madigan
It is with aching hearts and great sadness that we announce the passing of our loving mother, nanny, aunt, and dear friend Nancy Ann (Pickell Stephens) Madigan. She died unexpectedly, of natural causes in her home on January 7, 2018 at the age of 79, less than a year after the passing of her late husband Gerald F. "Jerry" Madigan.
Nancy Pickell Stephens Madigan was born in Muncie Indiana October 18, 1938. She attended St. Lawrence Catholic Church and Elementary & Jr Hi School, Ball State Teachers College, LA Community College, and Fullerton Community College where she received an A.A. Degree in Recreation. She married David Harley Stephens in Muncie in 1957 and they moved to Burbank, CA. She gave birth to Laura Ann, Teresa Marie, Donna Patrice, Claudia Diane, Paula Kathleen, and John David. After all were in school, she worked part time at McDonald's and later full time at the Sports Gallery, Beam & Associates, and tBP/Architecture from which she retired in 2001. She married Gerald Francis Madigan in 1989 and they traveled many places on private yachts and in their RV. Her most memorable trips were to Ireland in 1988 and Italy in 2008. The most unusual trip was to the South Pacific on the yacht Nipigon and visited Hawaii, Tahiti, the Cook Islands and Tonga. She later worked as a substitute for the Newport Mesa Unified School District as a receptionist and in clerical positions. She is survived by her 6 children, 11 grandchildren, 3 step children and 6 step grandchildren.
A Funeral Mass will be held on Saturday, January 27, 10:30am at Our Lady of Mount Carmel Catholic Church, located at 1441 West Balboa Blvd., Newport Beach, CA 92661 followed by a reception at 12 noon. A private interment will take place Saturday afternoon.
In lieu of flowers, donations can be made in Nancy's memory to the Our Lady of Mount Carmel Church (www.olmc.net) or to the Ball State University Music department (http://cms.bsu.edu/foundation/give).
Previous Events
Service
Our Lady of Mount Carmel Catholic Church
1441 West Balboa Blvd.
Newport Beach, CA 92661
Mass will be followed by a reception at 12 p.m.