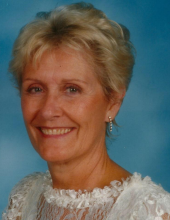 Obituary for Rosa Schemmel
Rosa Isabelle (Gresham) Schemmel

Schemmel, Rosa Isabelle (Gresham), 93, passed away February 26, 2018, in Mission Viejo, California. She and her husband, Louis Charles Schemmel, had relocated from Wichita, Kansas to California in 2010 to be closer to several of their daughters living in the southern California area.

Rosa was born in Ware Shoals, South Carolina on October 9, 1924 to Bessie Belle Hill and Claude Gresham, Sr. She had three sisters and one brother and is survived by her sister Ruth Gresham Bedingfield. After growing up in South Carolina, she lived in Washington D.C., where she worked for the CIA. She met her husband, Louis, in Virginia Beach in 1952, and they married in October 1952, before moving to Chicago and then to Wichita, Kansas.

Rosa enjoyed a number of sports activities, including horse-back riding, tennis (she played competitive and tournament tennis into her 70's) and she competed in the Senior Olympics in swimming. She was a life-long animal lover, rescued and adopted many cats and dogs over the years, and was an ardent supporter of animal welfare groups.

Survivors include her four daughters Lou Ann Schemmel, Diane Schemmel Goostree, Nancy Schemmel Whitney, and Patricia Schemmel Terry. She is also survived by four grandchildren: Levi and Jeremy Sternberg, Jonathan Schemmel Goostree and Emily Gresham Terry. Memorial contributions (in lieu of flowers) may be made to the Wichita Action Animal League at https://www.waalrescue.org.